Skip to Main Content
It looks like you're using Internet Explorer 11 or older. This website works best with modern browsers such as the latest versions of Chrome, Firefox, Safari, and Edge. If you continue with this browser, you may see unexpected results.
Books About this topic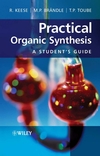 Practical Organic Synthesis: A Student's Guide
Call Number: Joyner Stacks QD257.7 .K4313 2006
Finding Syntheses Online
Organic Syntheses

Organic Syntheses procedures may be accessed by conducting structure and keyword searches ("database mode").

SciFinder

Remember that "synthesis" is sometimes expressed in abbreviated form -- "synth" -- and may also appear as the word "preparation" -- or abbreviated as "prepn."
My Synthesis is written in German! What can I do?
Because much important work in organic chemistry was done during the early part of the twentieth century by German researchers, the synthesis you need may be included in a journal article written in German. Don't panic. You can often still get the information you need (perhaps from the abstract which is often available in English or from the diagrams of molecular structures). If you need to know a few key German words try one of these chemistry-specific resources:
Handbooks for Syntheses
The Merck Index

by

Call Number: RS51 .M4 2013

ISBN: 9781849736701

Publication Date: 2013-04-30

Handbook of Reagents for Organic Synthesis

by

Call Number: QD77 .H37 1999 V. 1

ISBN: 9781118726594

Publication Date: 2015-09-28

Dictionary of Inorganic Compounds

by

Call Number: QD148 .D53 1992 V. 1

ISBN: 9780412301209

Publication Date: 1992-07-23

Handbook of Data on Common Organic Compounds

by

Call Number: QD257.7 .H36 1994 V. 1

ISBN: 9780849304040

Publication Date: 1995-01-18

Dictionary of Organic Compounds

by

Call Number: QD246 .D5 1996 V. 1

ISBN: 0412540908

Publication Date: 1995-10-01

Encyclopedia of Reagents for Organic Synthesis

by

Call Number: QD77 .E53 1995 V. 1

ISBN: 9780471936237

Publication Date: 1995-09-06