Instruction Standards & Guidelines
ACRL promulgates standards and guidelines to help libraries, academic institutions, and accrediting agencies understand the components of an excellent library. These standards, guidelines, and model statements are reviewed and updated by the membership on a regular basis.
Library Instruction & Pedagogy Information literacy instruction: theory and practice
Call Number: ZA3075 .G73 2001
Written by two library leaders, it is a thorough, in-depth discussion of both the theory and practice of library instruction. Chapters cover the history and background of user education in libraries; the psychology of learning as applied to library teaching; conceptual models for teaching critical thinking; program management, planning, and politics (on and off-campus); assessment and evaluation; designing and developing print and electronic teaching materials; classroom management and teaching techniques; learning technology; visions for the future and much more. The CD includes tables describing various instructional modes, an interactive database to aid in selecting among them, handouts and more. (Product Description)
Information literacy instruction handbook
Call Number: ZA3075 .I536 2008
"Information Literacy Instruction Handbook" is designed primarily for librarians new to teaching or management of information literacy instruction. In addition, it serves as a one-stop refresher source on key topics for more experienced librarians. The approach is practical, with an emphasis on up-to-date situations and approaches. It contains concise and practical chapters, written by experienced information literacy instruction librarians, providing the basics but with references to other key sources for those who would like to explore topics further. (Product Description)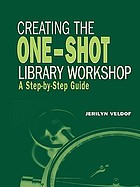 Creating the One-Shot Library Workshop
From needs assessment through design and implementation to final evaluations, this practical guide takes you step by step through the workshop process.
- learn how to determine what content to cover and how to assess whether learners are learning that content,
- get a suite of instructional methods to spice up your teaching and improve your efffectiveness as an instructor,
- explore the role of cognitive overload, learning styles and memory retention in workshop design, and
- learn how each step of the design process played out in the real-life design of library workshops at the University of Minnesota Libraries in the Twin Cities. (Product Description)
The Library Instruction Resources LibGuide was created by Amy Gustavson, Coordinator of Instructional Services at East Carolina University. If you have any questions, please contact her at gustavsona@ecu.edu.